Welcome to my Blog. Some of my entries will be allowing members of the site to share their views, so if you wish to share your view in answer to my own, please ask for membership. I hope you enjoy sharing my musings and photos. Learning is a two way affair
We have kept three puppies from our latest litter and wish years of happiness to the two precious babies that left our care and joined their new families. 
Here are photographs taken on February 6th of our own three precious bundles. We have named them Mathew, Malachi (males) and Poison (female) they were 3 months of age on 1st February.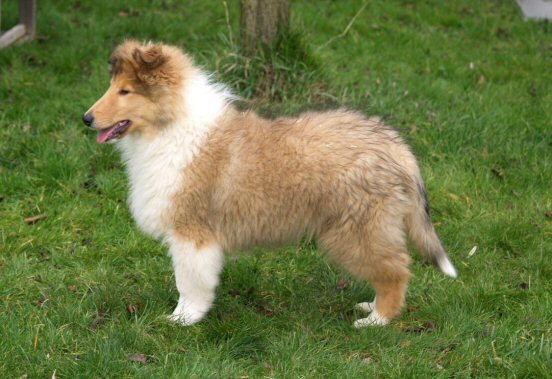 Read Full Post »
Enjoying watching the dogs after a grooming session, and watching them standing against the hillside that we call home. Of necessity they must balance themsleves by placing the hind feet out behind the set of the tail, as they raise their head to see over the area of long grass we call 'the wild part'; taking up a well rehearsed pose that is loved by Collie enthusiasts. This is a look of commanding dignity or as Albert Turhune once wrote.."the look of Eagles" ...
Many people question me...
Read Full Post »
About 5 years ago I began to ask myself a serious question, "Are the Collies we generally see here in the UK in 2009  the same as the Collies we saw a few years ago, and in particular in and around 1970"?
It is now 40 years since I bought my first Rough Collie, and I decided to take a long hard look at the breed (having owned it since my youthful teen years), and I found myself asking the above question. I first began worrying about such things many years ago in the early 1980's w...
Read Full Post »